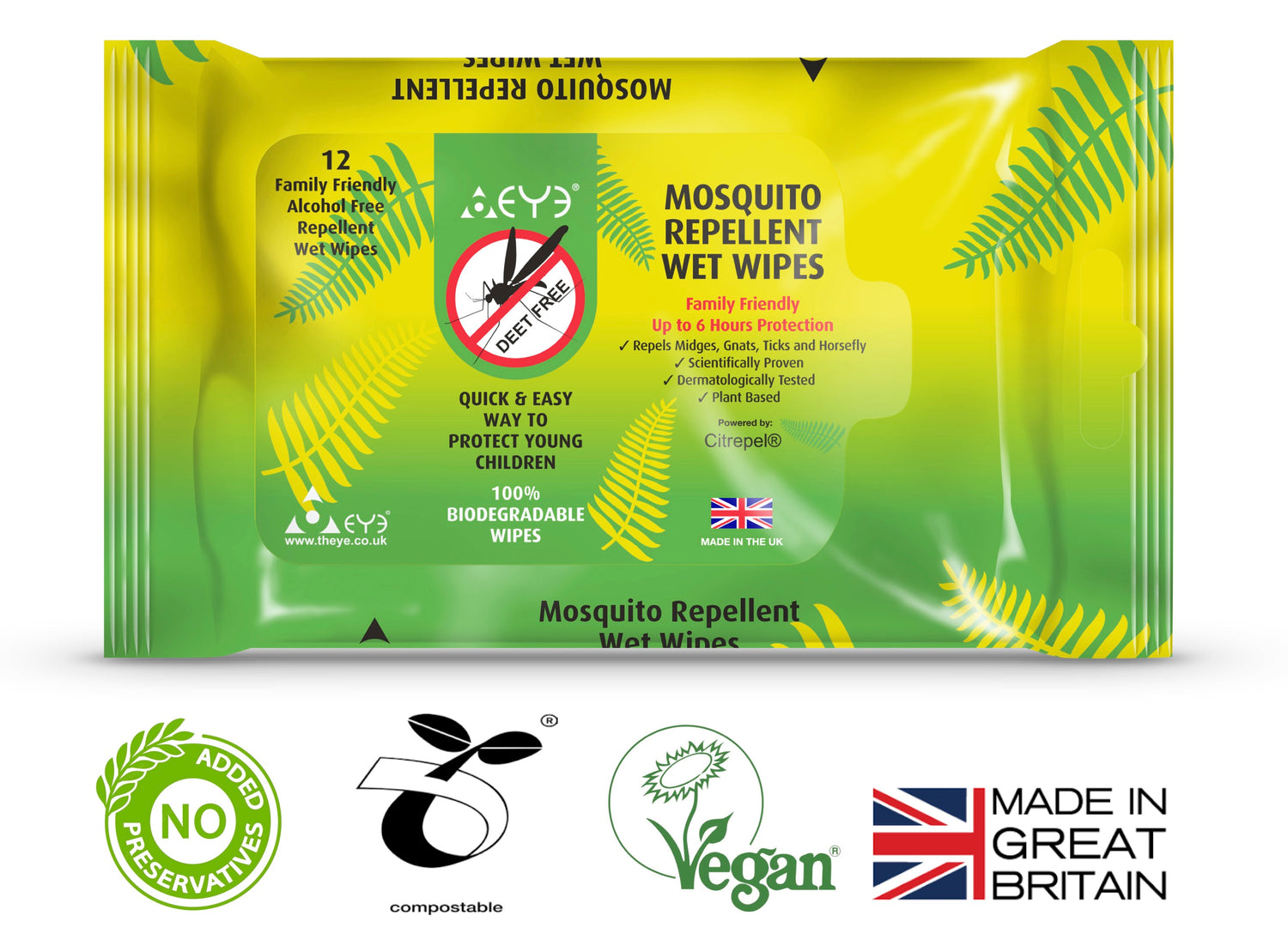 On Sale
Mosquito Repellent Wet Wipes - 12 pack
Insects we repel
Preservative, DEET & Alcohol Free - Moisturising, non-greasy & kind to the skin

Powerful, Natural PMD repellent recommended by WHO, NHS & Public Health England 

Clinically Tested formulation 


Cruelty Free, vegan formula

100% effective against Mosquito, Gnats other biting Insects

20% Citrepel 75® - Up to 6 hours protection

Suitable for adults, children 6 months+ and even pregnant women

Environmentally Friendly - Compostable & Biodegradable wipes

Wet Wipes - Perfect application method to safely use on young children

MADE IN THE UK - Guarantees a high-quality product

Further information
Our formula is 100% effective to use in both HIGH and LOW-risk areas where Malaria, Chikungunya, West Nile Virus, Zika, Dengue and other insect transmitted diseases are present.

Independent trials done by London school of hygiene and tropical medicine have proven complete protection for up to 6 hours after a single application of this product, against mosquitos, midges (gnats), Ticks, Horsefly and other biting insects.  The study has proven this product to be as effective as synthetic chemicals but has the benefits of being natural. Want to see for yourself? Take a look here.
The formulation is Alcohol and DEET free which is moisturising & kind to the skin and has a fresh smelling fragrance.

Made up of a 100% natural active ingredient, plant-based PMD. PMD is approved by the NHS, WHO and Public Health England for use in all areas including high risk areas where there is a risk of mosquito-borne diseases.
More Benefits of using THEYE Wet Wipes:
Our Wet Wipes are better for the environment….. Why is this?

Citrepel75® is a natural, sustainably grown renewable resource

Citrepel 75® is refined from the Java Citronella plant which is ethically grown. Find out more about our growing process here (Link to blog)

Wet wipes are 100%

Compostable & Biodegradable

We manufacture in the UK using local companies - Reducing carbon footprint on long distance haulage