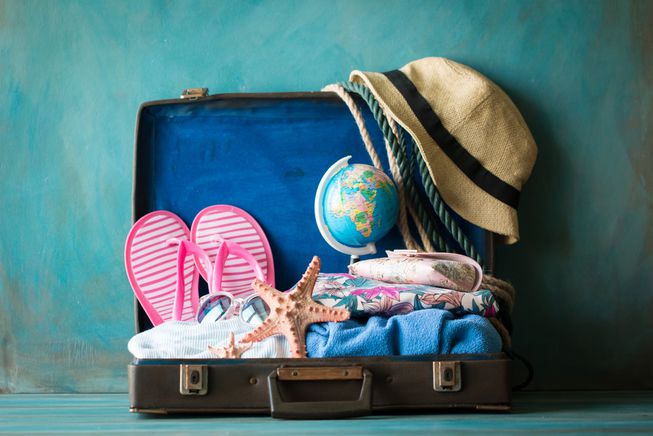 What can be more exciting than going on holiday? A week in the sun is often the most relaxing way to spend time away from work and forget about troubles for a while. So why not minimise the stress and make sure your packing is a breeze too?
Here at theye, we know how important it is to make sure you're prepared for a safe holiday in the sun, so along with your tried and trusted mosquito repellent products – we're also bringing to you the perfect packing checklist for a standard week in the sun.
 Don't forget the essentials
Passport
Travel insurance documents
Tickets/booking confirmations – flights, accommodation etc.
Bank cards, foreign currency and maybe a travel money card
Now for clothing
Sweatshirt/cardigan/light jacket for cool evenings (can be worn to travel in)
Scarf/overshirt – can be used for warmth in the evenings or as a cover-up after the beach
Trousers x 1 (can be worn to travel in)
Closed-toe shoes (can be worn to travel in)
Sun hat (can be worn to travel in, to avoid damage)
Shorts x 2
Day tops x 4
Lightweight evening outfits x 5 – non-crease dresses or shirts
Swimwear x 2
Underwear x 7 – these take up little room, so there is no need to cut back on such essentials!
Flip flops/sandals
Socks x 3 – only if your closed-toe shoes require them
Nightwear x 1
Toiletries and Medication
The Eye mosquito repellent products 
Toothbrush and a small tube of toothpaste
Small roll-on deodorant
Hairbrush/accessories
Make-up if necessary
Razor
The Eye micro moisturiser with SPF
Paracetamol
Antiseptic cream
Plasters
Any personal medication
Everything Else
Mobile phone/charger/headphones
Camera/charger
Travel adaptor
Sunglasses
Pen/paper
Reading material
Day bag/handbag
Finally, if you're packing for your children too, make sure that you have their key essentials in place too – not only do you need their clothing and their toys to keep them occupied on the flight, you also need to make sure you've got a suncream with a high level of SPF and bug repellent wipes, sprays or bands to protect them from any pests during the holiday too.