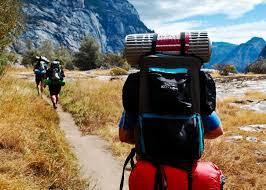 It's an age-old problem for many keen backpackers - they're excited to head out and see the world, but they're struggling to work out how they can do this on a limited budget. Backpacking doesn't have to be expensive though, and in fact, there are many simple ways to make sure you're making your money go further on your trip of a lifetime. This blog looks at just how you can stretch your money further, stay on the road longer, and ultimately have the money to do everything that you want to do whilst you're visiting the countries on your trip.

If you're brand new to budget backpacking, the tips below might just help you…
1. Find a free place to stay!
For most travellers, one of the main costs on the road is accommodation. Hotel beds and hostels add up quickly if you're paying for them every night and if you're travelling for months on end, it might even be worth investing in a tent and a camping hammock. If you find a good spot and feel safe enough to stay, you may just be able to see some of the best sunsets of your life! That being said, camping isn't always possible and it can be dangerous - so do think about couchsurfing.
 There are websites which allow you to safely network with locals in the countries that you are visiting, and stay on their couch (or in their house - sometimes this is a bedroom!) for free. It's a great way to save money, and it's also an excellent way to meet with like-minded locals and get to find out some of the insider knowledge about the area. There are also websites which allow you to travel the world simply by housesitting - watering some plants, maybe feeding some chickens in exchange for a cool place to stay. Whichever way suits you the best, these are the best ways to save money on your accommodation whilst backpacking on a budget.


 2. When dining, choose local
Now, aside from accommodation and travel, one of the other major expenses for backpackers is food. Everyone needs to eat - and when you smell some of the cuisine available in some of the most popular backpacking countries, it certainly won't be easy to resist ordering a couple of items from the menu. Whether you're looking to enjoy Pad Thai in Khao San Road to Tortillas in Antigua, choosing to eat local food is the most delicious way to save money. Choosing to avoid restaurant chains that have been set up purely to lure tourists, and by sticking with the local cuisine types and street food vendors, you're bound to save a lot of money. Often, these dishes are very cheap and very plentiful. It can be worth taking some time when you first arrive in a new destination to take to the street and find some of the most lovely holes in the wall eateries that exist. Often, the best indicator of a great street food stall is that it's busy and busy with local people. Search out the line and join it - you're likely to find cheap tastes that you've never experienced before. A win-win!
 3. Learn to haggle
It's not always the most natural skill to have - but the art of negotiation or 'haggling' is likely to be a real money saver whilst you're away. In many parts of the world, it's possible to haggle for absolutely everything - whether that's a discount on a souvenir, a meal, a room or transport. India, for example, is one of the most prevalent countries for this and in many cases prices have been set high to anticipate the negotiation - so not doing it will only ensure that you're paying far too much for something worthless. Try and haggle on absolutely everything you can, and as long as you remain polite, the worst a seller can do is refuse. Have a practice before you travel and bring your confidence with you - keeping it light, friendly and fun. The art of a true haggle will save you hundreds and hundreds over the course of your trip! 
4. Save on your bug repellent
If you're backpacking or going on a hiking holiday, it's extremely important that you're prepared to fight against the age-old nuisance - mosquitoes and other bugs! In many of these foreign areas, there are a series of diseases that can be transmitted through mosquitoes - including Dengue and Zika - so backpackers need to be really careful and ensure that they have adequate protection.
 We'd advise that you pick this up before you travel to avoid paying through the nose for this last minute at the airport and that you look for a series of well-reputed products that will fit with your needs and preferences. From creams, wipes, sprays and bands, there are a variety of ways to ensure you're protected. Check out our NEW range of Mosquito Repellent products, and choose the best ones for you. These have all been manufactured in the UK and tested to be highly effective against many biting insects, so they are really one-size fits all way of making sure you're protected against pests when out there. They are natural, powerful plant-based formulations that show in testing to be as effective as synthetic chemicals but without the risk of side effects. They are moisturising to the skin, with a pleasant smell, benefit from being DEET & Alcohol-free and are even suitable for pregnant women and children as young as 6 months old.