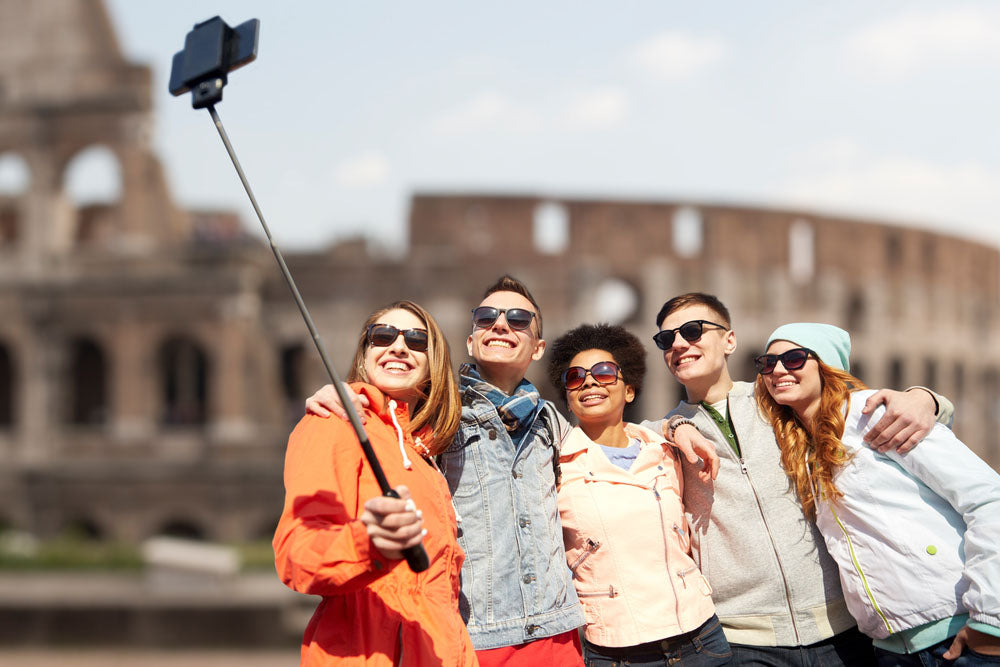 Are you thinking about going on a group trip, but concerned about the best way to make it work? Many people when they think about group travel immediately conjure up ideas of fall outs, disagreements, and hard work - often preferring to travel on their own or with just their immediate family. That being said, there's a lot of fun that can be hand on a group trip - and electing to stay out of the fun alltogether is a surefire way of missing out on what could be some of the best memories.

In fact, there are some really simple ways that you can enjoy group travel, and ensure that the trip runs smoothly for everyone involved. Here are our top tips.



Divide the responsibilities
Like any workplace or sports team, a travel group will be stronger and more efficient if each member is able to play to their strengths. You know who is good at what. Let the most well traveled person take charge of accommodation, the most social or language savvy person ask for directions, and the foodie and party animal of the group handle food and drink respectively… instantly, everyone has a role they feel comfortable with, one person isn't burdened with all of the responsibility and all of the decisions, and everyone gets a say in the things that matter the most to them. Delegating responsibilities in the group is the perfect way to ensure harmony - before you go away and then when you get there.

Don't be afraid to go your own way
Now, you've chosen to go away together - but that doesn't necessarily mean that every individual in the group needs to stay with eachother the whole time. Naturally, in any group there will be natural interests and differing tastes, so the only way to really make sure everyone has a brilliant time and get what they need out of their holiday is to set a rule, early on, that everyone is free to do their own thing. Setting this rule adds flexibility and ensures that everyone has autonomy over their own holiday experience, removing the risk of any arguments or disappointment from other members of the group. One of the best rules about splitting up is to organise meeting up again around mealtimes, meaning that you could all go your own way in the day and see different sights, and then meet up in the evening over a lovely glass of wine (or two!) and talk about all of the experiences that you've just had.


Don't give in to stronger / more controlling members of the group
It's a sad reality but it does seem like every group has one individual who likes to call all of the shots, or wants to do things a certain way - and won't budge on that idea. However, there's no easier way to start conflict on a trip than having the feeling you're living someone else's travel fantasy. The best thing to do is to call out the behaviour as soon as it's visible - in a pleasant way of course. Doing things like agreeing that major decisions would be subject to a vote is a good way of making sure everyone has a voice, and also voicing in advance of the trip what everyone would be interested in doing and not interested in doing is a great way to set expectations before you even get on the plane.

When you're out, don't forget to tip
It can be quite a controversial topic - should we tip? By how much?, but the reality is that it's far more clear cut when you're out in a group. If your table is larger, and occupies more of the staff's time, it's naturally the responsible thing to do to leave a tip. If all groups left a 10-15% tip, as a general rule, it would go some way towards changing the attitude faced by other groups in restaurants whilst travelling. Also, agreeing on this rule internally can make splitting the bill far easier - if everyone's agreed in advance to a 10% tip, it's split down appropriately at the end of every meal, without anyone requiring to discuss it further.

Check for group discounts before you travel
Many major attractions offer group discounts, especially when groups start pushing 25-30 people. Your best bet is to check online in advance but it never hurts to simply ask at ticket windows: you'd be surprised what you might find! Making savings is a great way to make sure everyone's happy, upbeat and having a wonderful time away, so it's worth an ask when you think it's appropriate to.

Make sure everyone's got adequate bug protection
There's nothing worse than being in a group situation with someone who is entirely unprepared for the holiday - and often, bug protection can be a major sticking point when it comes to travel plans. If someone has gone out on day one without the relevant bug protection and been bitten, that can cause itchiness, uncomfortableness and in some cases other minor symptoms, all of which can cause them to be miserable or want to sit out of pre-prepared plans. Ensure everyone's in a great mood by nudging everyone to get their relevant protection before you fly, and make sure they remember to pack it!
Our NEW range of Mosquito Repellent products has a variety of items to choose from, so it's the perfect place to start when providing the group with the information they need. From bands through to sprays, creams and an aerosol, if you link the group they can then browse and choose the best protection for them.
All of our range has been manufactured in the UK and tested to be highly effective against many biting insects, so they are really one-size fits all way of making sure you're protected against pests when out there. They are natural, powerful plant-based formulations that show in testing to be as effective as synthetic chemicals but without the risk of side effects. They are moisturising to the skin, with a pleasant smell, benefit from being DEET & Alcohol-free and are even suitable for pregnant women and children as young as 6 months old